Train routes in Sweden
Discover Sweden by train
New book shows how easy it is to go on amazing train routes in Sweden.
Train routes in Sweden
"We're going on a rail tour around Östergötland and Småland this summer!" If you'd said that to your friends a few years ago there may well have been some raised eyebrows. These days, though, they are more likely to listen with interest.
Holidaying in Sweden is the latest trend – it feels both different and exciting after all those years of charter flights and globe-trotting. Swedes have also increasingly come to understand that train is the transport of the future. It's climate-smart and comfortable – and cheaper in the summer too!
The only questions are how you take a rail tour in Sweden and where to go? The answers can be found in a brand new travel book published by Brombergs bokförlag called Längs spåret [Along the track], which describes six different routes through Sweden, including details of exciting stops along the way. Do you know, for example, where you will find Sweden's Maldives? Where you can ride a family boomerang rebound rollercoaster? Or where Sweden's clone archive for varieties of apple can be found?
Längs spåret is also packed with clever travel tips, ideas for families with children, hotels with the wow factor... everything you need, in fact, to create your own rail tour this summer.
Längs spåret (in Swedish)
Pages: 144.
Type: Flexiband, similar to a large paperback.
Publication: mid-March.
Price: around SEK 190.
Below is a brief outline of some of the routes:
Train route in southern Sweden
Karlskrona–Ronneby–Sölvesborg–Malmö–Helsingborg–Falkenberg–Varberg–Borås
This tour is impressive from the word go. It begins in the World Heritage City of Karlskrona, considered to be one of the world's best-preserved naval cities. Here you'll find castles, fortification towers, workshops, shipyards and magnificent buildings such as the two baroque churches that stand on Stortorget square.

The journey continues through wide-open cultural landscapes and beech forests, along coastlines and by shimmering seas, taking in several beautiful and exciting cities on the way. One of them is Helsingborg, known as the 'Pearl of the Strait'. Here you can take a stroll around, have a drink in Zoegas, which has been selling coffee since 1901, climb the medieval Kärnan tower and enjoy the view across Öresund. Then dine at the elegant Sillen & Makrillen fish restaurant on the promenade.
The next day you can either take the tour boat to Helsingør and then the local train to the seaside resort of Gilleleje, or explore the dramatic Kullaberg peninsula. Did you know you can go whale-watching here? Porpoises are one of the smallest species of toothed whale and can be found in the waters around Kullaberg.
Then there are the beaches of Halland. Whether your favourite is Tylösand, Skrea strand or Apelviken or one of the more secluded bays, this is a great place for swimming and the children will love it. Lilla Napoli in Falkenberg is one of Sweden's most acclaimed pizzerias and a family meal here is highly recommended.
The rail tour ends in Borås, which will surprise you with its enormous murals, some 50 sculptures and one of Sweden's most vibrant cultural museums, the Textile Museum.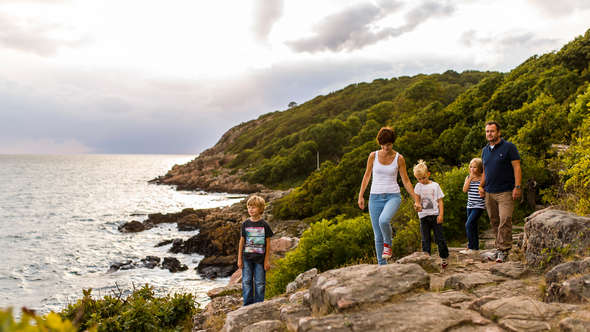 Photo: Mikael Tannus
Stunning train routes:
Malmö-Helsingborg. Passes through the agricultural landscape of Lundaslätten plain and then alongside Öresund.
From there, it journeys southwards towards Varberg. The train travels out along the coast, where you'll see Varberg Fortress.
Fun for kids:

The Big Bowl bowling alley in Malmö, the M/S Maritime Museum of Denmark in Helsingør, Kullaberg Nature Reserve, the beaches of Halland, Vallarna outdoor recreation area in Falkenberg...
Stunning train routes:
Lidköping–Mariestad. Passes majestic Kinnekulle. Voted Sweden's most beautiful train route by SJ passengers.
Fryksdal Line. Passes through the sweeping cultural landscape of Värmland and alongside the Fryken Lakes.
Fun for kids:

Liseberg, Universeum, the Nordic region's biggest science centre, Nordens Ark animal park, rafting down the Klarälven river, Sunne Sommarland theme park...
Train route in western Sweden
Gothenburg–Gullholmen–Fjällbacka–Ed–Åmål–Kil–Sunne–Karlstad–Degerfors
A rail tour full of contrasts that begins with a few days in Gothenburg. Sweden's second city has a lot to offer, including top-class restaurants, cafés and attractions. Families with children won't want to miss Liseberg amusement park and Universeum, the museum of science. For the grown-ups, the impressive Gothenburg Museum of Art and the trendy streets of Långgatorna are highly recommended.

The journey then heads north and you can smell the salt water and seaweed as you approach the many beautiful holiday destinations of Bohuslän. One of which is Fjällbacka. In the centre of town is Badholmen, which has its own piers and diving platform. It's all about quality family time here: a seaside lunch, crab fishing and an evening stroll in Ingrid Bergmans torg.
If the weather's really nice and the sea is calm, you can take a trip to Väderöarna, which has an old pilot station, a good inn, rocky beaches and beautifully clear water. Divers call Väderöarna "Sweden's Maldives".
Then it's time for a change of scenery, from coastline to virgin forests and lakes that are perfect for paddling. An absolute must in Dalsland is a visit to the Håverud aqueduct, which was built in the 1860s. The water here passes along a 33.5-metre-long steel trough above roaring rapids.
Another fun stop on the route is Not Quite in Fengersfors, a former 18th-century paper mill that has been transformed into a vibrant cultural centre with an art gallery, shop, café and bistro.
Then comes Värmland, with a visit to Karlstad and the former Sandgrund dance hall, which is now a gallery housing works by watercolour painter and TV favourite Lars Lerin. The trip ends in Degerfors, where you can hike through the dramatic ice-age landscape of Sveafallen.
Train route in eastern Sweden
Norrköping–Linköping–Nässjö–Alvesta–Växjö–Kalmar–Öland
Why Norrköping? Well, because the city has one of Sweden's most interesting city centres, with an impressive and almost completely intact industrial landscape running along the Motala ström river. Or "Strömmen", as the locals call it. It is a testament to industrialism and a time when Norrköping was known as "Sweden's Manchester".
The route then continues to the university city of Linköping, where lunch at Turkish restaurant Cok Najs is highly recommended. Nearby Omberg is a great place for a pleasant Östergötland hike. Here you'll encounter beautiful virgin forest, one of Europe's northernmost beech forests, colourful hay meadows, the dramatic slopes of Lake Vättern and magical forest lakes.
Then it's time for Småland, which may seem like a never-ending patchwork of spruce forest and wet bogs. But it also has a long Baltic Sea coastline, fantastic culture and interesting towns and cities, with a range of restaurants of an increasingly high standard. PM & Vänner in Växjö, for example, is considered to be one of Sweden's best restaurants and hotels.
One great place to stop off in Småland is Värnamo and its Vandalorum Art and Design Museum, which has a lovely restaurant serving the Småland signature dishes of isterband sausage and ostkaka curd cake. Another is Älmhult, which was home to the world's first IKEA store, now a museum dedicated to Ingvar Kamprad's furniture empire.
The final part of the rail tour runs via Kalmar to Öland, where hiring a bike is a must. You should definitely head south to the World Heritage Site of Stora Alvaret, a unique barren plain with its own peculiar light. In the far south are the Ottenby Bird Observatory and the Långe Jan lighthouse, Sweden's tallest lighthouse at 41.6 metres high.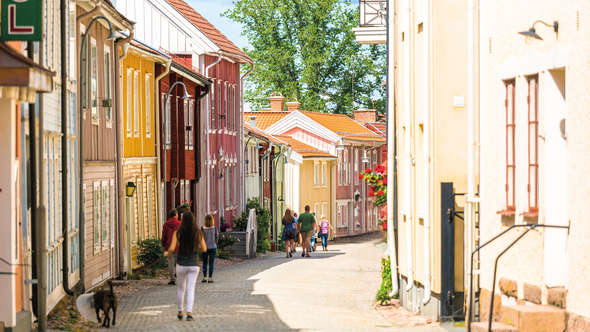 Photo: Linus Talltjärn
Stunning train routes:
Tenhult–Bankeryd. Offers spectacular views across Lake Vättern and the Huskvarnadalen valley. On a good day, passengers can also see the island of Visingsö on the horizon.
Fun for kids:

Kolmården wildlife park, Omberg zipline, possibly the best zipline in Sweden, the locks of Bergs slussar and the Swedish Air Force Museum just outside Linköping, Astrid Lindgren's World in Vimmerby...
Stunning train routes:
Ånge-Järvsö. Passes alongside the beautiful lakes of Letssjön and Storsjön and the vast Hennansjön, against a backdrop of blue mountains.
Fun for kids:

Kokpunkten indoor water park, the Folkhemsturen tour in Västerås, the Kolarbyn eco-lodge in Skinnskatteberg, Järvsö mountain bike park, Furuviksparken in Gävle...
Train route in central Sweden
Västerås–Tällberg–Mora–Fågelsjö–Östersund–Järvsö–Gävle
A long and varied rail tour that begins in Västerås with its fantastic indoor water park and one of Sweden's most talked about hotels, The Steam, which is housed in an 18-storey, 100-year-old former steam power plant.
The journey then continues through the forests of Västmanland, past Tällberg and Lake Siljan, before changing trains in Mora onto the Inland Line and heading towards Östersund. This is a journey that offers peace and quiet and an opportunity for reflection. The forest here is impressive.
Hamra National Park is highly recommended for those who love to hike. It has been described as the perfect national park, with marshlands, virgin forests and abundant wildlife. The nearest station is Fågelsjö and you can stay at the STF Fågelsjö hostel.
The next stop is Östersund, which was awarded City Centre of the Year 2019 and has developed into a culinary hotspot. It's home to several restaurants serving high-quality food using locally produced ingredients: Jazzköket, HEIM Food Studio and the almost legendary Mikado, which is famed for its excellent sushi – to name but a few.
After visiting the mountains of Jämtland, the journey turns south towards Järvsö and Hälsingland. Here you can admire the farmhouses of Hälsingland, try out the adrenaline-filled Järvsö mountain bike park, and dig out some bargains among the second-hand shops and flea markets.
The trip ends with a visit to Gävle and Furuviksparken, one of our best animal and amusement parks. The main attraction here is the Fireball rollercoaster, which is a family boomerang rebound coaster.
Train route in the very north of Sweden
Sundvall–Örnsköldsvik–Umeå–Luleå–Jokkmokk–Kiruna–Abisko–Björkliden–Riksgränsen
From Sundsvall in the south to Riksgränsen in the north, via Luleå and Kiruna, this is a route that will take your breath away. Take the High Coast, for example. It's hard not to be enchanted by its dramatic natural scenery, with mountains and islands that rose, and are still rising, out of the sea after the last ice age 10,000 years ago.
After Umeå, the landscape has a different kind of beauty, one that is uniform and almost meditative. Endless forests stretch to the horizon and you can travel a long way without seeing anything that stands out in the landscape. You'll sink into a dreamlike contentment by doing nothing more than looking out of the window.
The next stop is Luleå, which is experiencing something of a culinary boom – Food the Luleå Way, as Visit Luleå calls it. It has six top restaurants listed in the White Guide. If the weather's nice, you can head out to the Luleå archipelago and its 1,312 islands. A favourite of many people is Brändöskär, with its fisherman's cottages and boathouses right by the beach.
After visiting the Sami town of Jokkmokk and Kiruna, Sweden's most magnificent train journey awaits. It runs alongside Torneträsk lake and through a sweeping, undulating mountain landscape and then you see it – Lapporten. Perhaps the most famous landscape silhouette in Sweden.
Many people get off in Abisko to tackle the Kungsleden hiking trail, but the rail tour itself ends in Riksgränsen, which is a small residential community with a collection of hotels and ski lifts. Riksgränsen is one of the snowiest ski resorts in Sweden and you can ski here right up to midsummer.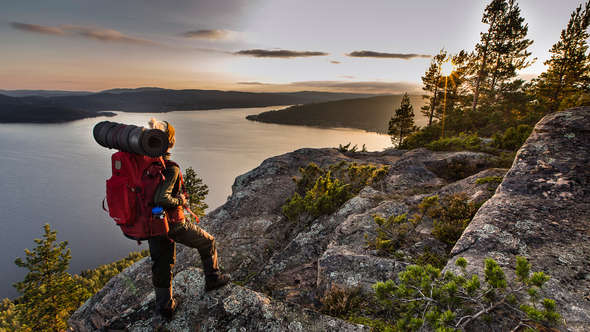 Photo: Fredrik Lewander
Stunning train routes:
Kiruna–Narvik. The entire route is magnificent. From undulating mountain landscapes and the vast Torneträsk lake to the dramatic descent to Ofotfjord.
Fun for kids:

Himlabadet water park in Sundsvall, via ferrata climbing to the top of Skuleberget (High Coast), Teknikens Hus technology museum in Luleå, Sweden's northernmost science centre, climb Kebnekaise mountain, summer skiing in Riksgränsen...
Stunning train routes:
The journey south from Stockholm. In just the first few minutes, you'll pass Stockholms ström, Rosenbad, the parliament building, the Old Town, Riddarfjärden, the Heights of Södermalm and the bridges over Årstaviken bay. Impressive.
Fun for kids:

Lennakatten, the steam train that runs between Uppsala and Länna, Gröna Lund amusement park, the Museum of Natural History, a day at Långholmen, Tom Tits Experiment science centre in Södertälje...
Train route around Stockholm - the capital of Sweden
Uppsala–Stockholm–Katrineholm–Julita–Laxå
This rail tour is different from the others, as most of the journey is about discovering Stockholm. It begins, though, in the university city of Uppsala, which is home to outstanding historical attractions, a charming waterside environment by the Fyris river and great restaurants such as Aaltos Italian Grill & Garden, Hambergs Fisk and Villa Anna.
You need to devote a few days to our beautiful capital, Stockholm. So, what to do? Take a walk on the island of Djurgården, visit the Moderna Museet modern art museum and Nationalmuseum. Both are in beautiful waterside locations, and of course stroll around the Old Town, but do it early in the morning before the hordes of tourists arrive. The best views are to be had from Skinnarviksberget hill on Söder. 360-degree views of the big city! Magnificent.
Nearby are Hornstull and Långholmen, which offer a typical Stockholm combination of swimming, boating and nightlife. Here you'll find one of Sweden's most highly rated cocktail bars, Tjoget, as well as Japanese restaurant Barbro and the rustic Austrian restaurant Moldau, which serves an excellent range of schnitzels.
Top tip: every weekend during the summer, the leafy avenue of Hornstulls strand is transformed into Hornstulls Market, packed with flea market stalls, vintage clothes, design, antiques and food trucks.
After a few days, the rail tour continues towards Katrineholm and the beautiful Julita Manor, home to the Swedish Museum of Agriculture and the clone archives for varieties of apple. The journey comes to an end in the Tiveden National Park, which features dramatic rift valleys, virgin forest and giant ice-age boulders.
{{ getModalHeaderText() }}
{{ getModalInfoText2() }}