Travel by night train to Hamburg
Make your journey a part of the adventure. Travel during the night and wake up in Hamburg, ready to seize the day!

From sleeping compartments to comfortable couchettes or the cheapest option seating carriage, there is an option available for every need. You depart Stockholm Central at half past five in the evening and arrive at Hamburg-Altona at half past six the next morning.
Advantages with night train
Arrive relaxed and rested in the city centre of Hamburg.
From Hamburg, you can continue your journey through Europe by train.
Choose travel class based on your needs. You can book a private compartment or share with other travellers.
Different compartments on SJ EuroNight
Travel in a sleeping compartment, couchette or seating carriage. You can share a compartment with others or book a private compartment.
Sleeping compartment 1 Class
Private compartment for 1-3 people with ready-made beds. Shower and WC in the compartment. AC. Breakfast box is included.
Sleeping compartment 2 Class
Compartment for 1-2 people with ready-made beds. Sink in the compartment, WC in the carriage. AC. Breakfast box is included.
Couchette 2 Class
Compartment for 1–4 or 1–6 people. You make your own berth with provided bed linen. WC in the carriage. AC.
Possible to book a "Pets allowed" compartment via SJ Customer service.
Seating carriage 2 Class
Seat in open-plan saloon or compartment for 1–5 people. WC in the carriage.
Possible to book a "Pets allowed" compartment via SJ Customer service.
Discounted fares
If you have an SJ Annual pass you get a 25 % discount on your SJ EuroNight ticket.

Preliminary time table night train Stockholm–Hamburg
Daily departures in both directions.
Stockholm - Hamburg
| City | Arr. | Dep. |
| --- | --- | --- |
| Stockholm C | | 17:34 |
| Norrköping C | | 18:59 |
| Linköping C | | 19:25 |
| Nässjö C | | 20:22 |
| Alvesta | | 21:02 |
| Hässleholm | | 21:47 |
| Lund C | | 22:25 |
| Malmö C | 22:40** | 23:44 |
| Copenhagen Airport | 00:15 | 00:19 |
| Odense | 01:57 | 02:02 |
| Hamburg | 06:35*** | |
Hamburg - Stockholm
| City | Arr. | Dep. |
| --- | --- | --- |
| Hamburg Altona | | 21:50 |
| Odense | 01:54 | 02:00 |
| Copenhagen Airport | 03:26 | 03:29 |
| Malmö C | 03:53 | 04:24 |
| Lund C | | 04:38 |
| Hässleholm | | 05:13 |
| Alvesta | | 05:58 |
| Nässjö C | | 06:45 |
| Linköping C | | 07:48 |
| Norrköping C | | 08:15 |
| Stockholm C | 09:55 | |
** Boarding is possible from the trains arrival time in Malmö.
*** Sundays the train arrives at Hamburg-Altona at 08:51.

Good to know when you travel on board SJ EuroNight
Luggage
There is space in the compartments to store your luggage. Bags should be placed in designated luggage spaces in your compartment. In sleeping compartment 1 class, bags are placed opposite the upper bunk. In sleeping compartment 2 class och couchette, bags are placed above the door and under the lower bunk. Strollers and other large luggage are placed on the floor under the lower bunk.
Our regular luggage rules apply and we ask you to not bring more luggage than you can carry on board yourself. Luggage must not be placed in other parts of the carriage than in your compartment.
Covid-19
Restrictions and recommendations may differ between different countries and train operators. It is your responsibility as a traveller to find out what rules and restrictions apply to your planned trip.
Between 1 October 2022 and 7 April 2023, everyone over the age of 14 must wear an FFP2 face mask when using public transportation in Germany. This includes passengers entering Germany with SJ EuroNight. Don't forget to bring a face mask when boarding the train as face masks are not available on board for purchase.
Doors and locks
The compartments can only be locked from the inside.
Disability
There is, unfortunately, no room för wheelchairs on board. We are working on the issue and are hoping to be able to offer wheelchair spaces in the future. There are designated Disabled seats located close to the exit and WC in the seating carriage.
Food and beverages
On board, you can buy simple meals, snacks, sweets and beverages in the Minibistro. Lactose and gluten-free options are available. The Minibistro opens one hour after departure and closes around 11.30 pm. It opens again for breakfast at 5.00 am. It is not allowed to drink your own alcohol. A simple breakfast box is included in the journey if you have booked a sleeping compartment. Debit and credit cards as well as Apple and Google Pay are accepted as payment methods on board. It is not possible to pay with cash.
No smoking

You are not allowed to smoke on board.
Onboard staff
Our train attendants are available for any questions during the journey. If you need to come in contact with them, please go to the staff compartment or in the Minibistro.
Passport and border control
You need to travel with a valid passport or national ID. ID controls may occur several times during the journey, including during nighttime. It is your responsibility to make sure that you carry the documentation necessary (for yourself and your luggage) to enter Sweden, Denmark and/or Germany.
Pets
Pets are allowed in some seating compartments and couchettes. Pets travel on the floor and are not allowed in the bunks or seats. Contact SJ Customer service if you want to travel with SJ EuroNight and wish to bring your pet.
Wake-up call
Please contact the on-board staff if you want to request a wake-up call. It is not possible to stay on board after the train has reached its final destination.
Wi-Fi
We do not offer onboard Wi-Fi on SJ EuroNight. So make sure to download any music, films och shows that you want to watch before boarding. Or better yet, just enjoy the journey and hang out with your travel companions or other passengers!
Hamburg - the exciting city by the water
Hamburg is one of the most beautiful cities in the world and radiates an incomparable charm. Go on a discovery tour through the city by the Elbe and explore the most beautiful sights, attend unique events or feast in the most delicious restaurants and cafés. The city's scene & nightlife are known all over the world and Hamburg is also a great shopping metropolis.
The city is also the gateway to the rest of Europe, so it's perfect to continue the journey from here to almost anywhere you want!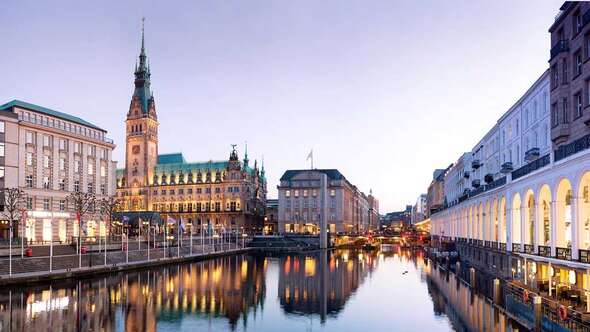 Alsterarkaden in Hamburg. Photo: Timo Sommer und Lee Maas
Train travel in Europe
In collaboration with Omio, we now offer you the chance to buy one-way tickets and round trips to the most popular destinations in Europe. Travel to Berlin, London, Paris and more and enjoy the beautiful views from the train window before the adventure awaits when you disembark.
Interrail in Europa
If you want to discover more than one city in Europe, Interrail is the perfect option for you! With the Interrail pass you can travel with 37 different train and ferry companies in over 33 different European countries. The possibilities are endless!
We have partnered with europarunt.se to offer you the opportunity to purchase Interrail passes in an easy and convenient way.
Foto: Eurail B.V.
{{ getModalHeaderText() }}
{{ getModalInfoText2() }}