Food and beverages on the train
In the SJ onboard bistro we offer snacks, sweets, meals and drinks. On this page we present current menus and price lists.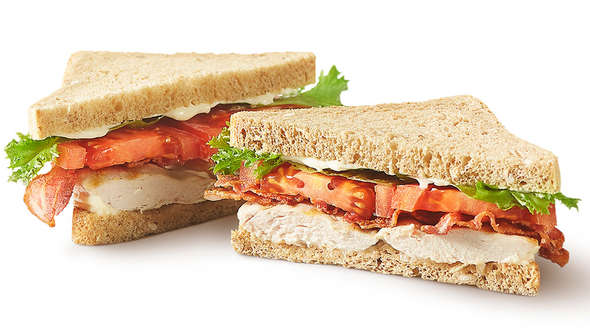 Food on our high-speed and IC trains
On our high-speed trains and on some InterCity trains, we offer a selection of food, snacks, candy, hot and cold drinks.
If you book your ticket more than 24 hours in advance, you have the option to pre-order food. If you are travelling in 1 class, the food will be served at your seat. If your are travelling in 2 class, the food is available for pickup in the bistro.
When you travel in 1 class breakfast is included on trains departing before 09:00. If you travel in 2 class, you can pre-order breakfast for pickup in the bistro.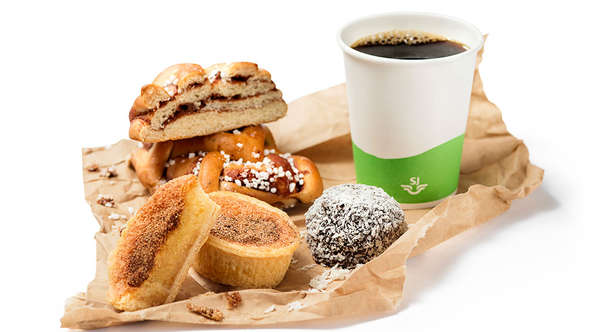 Food on the night trains
On our night trains to/from Jämtland and Umeå there is a bistro available on board with the same selection as we offer on our day trains. The bistro is usually open between 06:30 and 23:00. There is no bistro on the night train to/from Malmö
When travelling in 1 class, breakfast is included in your journey. If you are travelling on a night train with a bistro, you can pickup your breakfast from when the bistro opens until 09:00. In some cities we offer our 1 class passengers the opportunity to eat their complementary breakfast at hotels and cafés near the train station. You will find the list of the cities and breakfast places here.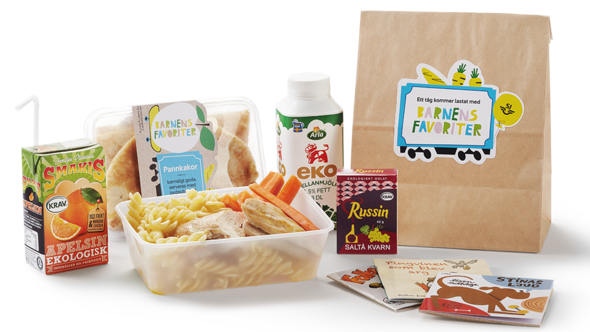 Children's choice
You can pre-order our children's menu when booking your trip with SJ Highs-speed train. For children, you can choose between strawberry jam pancakes and meatballs with pasta and carrot sticks. When you pickup the food on board the train, you can choose Smakis juice or milk to drink. When you pre-order our children's menu, a small children's book and a box of organic raisins is also included.
Vegetarian/vegan, gluten- and lactose-free
Our regular selection includes vegetarian/vegan, gluten- and lactose-free options. All food labelled as vegetarian is also vegan.
If you wish to pre-order vegetarian, gluten-free or lactose-free breakfast, it is possible to do so when booking your journey.
Our gluten- and lactose-free children's dish (meatballs with gluten-free pasta and carrot sticks) can be pre-ordered when you book your journey.
Special diet in 1 class and 2 class Calm on SJ High-speed trains
On departures before 09:00, breakfast is included in your ticket when travelling in 1 class. If you wish to have a vegetarian, gluten-free och lactose-free breakfast option, you need to contact SJ Customer service via telephone or chat with your order at least 24 hours before your departure.
When you pre-order our 1 class meal, a vegetarian/vegan and a gluten-/lactose-free option is also available.
Food on SJ Regional train
We do not sell food or beverages on our regional trains.
However, on some departures, breakfast (a sandwich and a hot drink) is included if you are a member of SJ Prio and are travelling in 1 class.
To pickup your breakfast, go to Pressbyrån on the station before embarking and present the SMS SJ sent you with your breakfast voucher.
Alcoholic beverages
We only serve alcoholic drinks to passengers aged 18 and above. We serve alcohol from 11:00 in Sweden and from 08:00 in Norway.
Alcohol bought in the bistro may not be taken with you when you disembark.
Any alcohol you bring with you may not be consumed onboard.
SJ Prio points in the bistro
As a member of our loyalty program SJ Prio you earn point when buying food and beverages in our bistro. Just show the train attendant your membership in the SJ app when paying. You can also use your already earned points to pay in the bistro.
Cash-free bistro
Since the summer of 2020, we no longer accept cash as a form of payment when purchasing food and beverages on board our trains. You are very welcome to pay using card or Swish.
Our breakfast places
Here you will find our selected breakfast places where you, on presentation of 1 class ticket for night trains or your Annual pass Gold, can eat your breakfast. These places are open for you until 09:00 in the morning.
ÖSTERSUND
Pressbyrån
Järnvägsstationen
Close to track 1
Sandwich, hot drink, juice, yoghurt and DN news paper
{{ getModalHeaderText() }}
{{ getModalInfoText2() }}