Train travel in Sweden
Discover Sweden by train
From the north to the south, from the plains to the forest, from the sea to the mountains. Take the train to experience the whole of Sweden.
Photo: Carl-Johan Utsi
The best way to discover Sweden is by train
With tracks running from Malmö in the south to Åre and Umeå in the north and a direct connection between the three capitals, the train is a comfortable and convenient way to travel to the places in Scandinavia that you want to explore.
It's also a climate-smart and sustainable choice compared with flying or driving – and it gives you the opportunity to experience
the beautiful and varied Swedish landscape, with its lakes, towns and unspoilt nature along the way.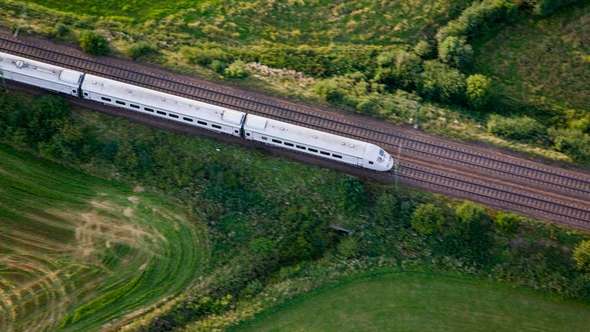 ©Naturbild AB
All of Sweden by train
SJ High-speed trains
The trains that run between the major cities are fast and have an on-board bistro which serves food, sandwiches, coffee and other drinks. Breakfast is included in 1st class and you can preorder lunch or dinner. Wi-Fi is available on board and there are electrical sockets beside each seat. SJ High-speed trains also run to and from Copenhagen.
SJ InterCity
An affordable alternative with more stops along the way. Food service is also available on board. There are electrical sockets at each seat, but no internet connection on these trains.
SJ Regional
With SJ regional trains, you can travel shorter distances quickly and comfortably.

SJ Night trains
Sleeping on the train saves you a night in a hotel and is a great way to use your travel time. You can choose between a seat in a couchette compartment, a berth in a sleeping car or a 1st class sleeping car. Some trains have a bistro offering on-board dining. Breakfast is included for passengers travelling in 1st class. You can take the night train north to the resorts of Jämtland in northwestern Sweden for skiing or summer outdoor activities. Or to Umeå, the cultural capital of northern Sweden with magnificent wilderness on its doorstep.
Since September 2022 you can also take the night train between Hamburg and Stockholm.

Night train routes
Gothenburg/Stockholm - Östersund, Åre, Duved
Gothenburg/Stockholm - Umeå
Stockholm - Malmö
Stockholm - Hamburg SJ EuroNight
©Niclas Vestefjell/imagebank.sweden.se
Jämtland Härjedalen
The region has a unique flora and fauna and is famous for its accessible wilderness and superb gastronomy. In winter skiing is primary. In summertime hiking is very popular as well as fishing, biking, paddling, foraging and riding. Åre in Jämtland is the largest mountain resort in northern Europe.
visitsweden.com/jamtland-harjedalen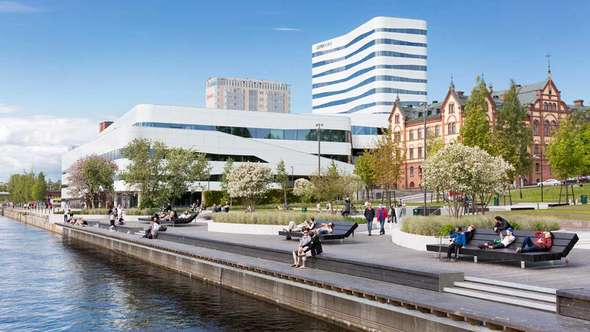 Väven, a hotspot in Umeå.
Umeå - culture and nature
Umeå was named the European Capital of Culture 2014, and for good reason. The city has an entrepreneurial, innovative spirit and a number of highly regarded museums. Umeå is also a city embedded in nature - surrounded by mountains, forest and endless coastline and therefore a draw for outdoor enthusiasts.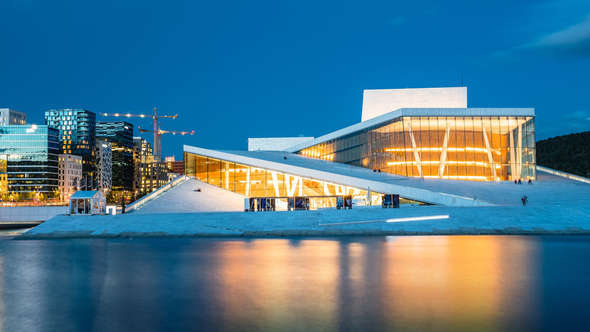 ©Ryhor Bruyeu
Oslo - the capital of Norway
Norway's largest city is buzzing with energy from new neighbourhoods and cutting-edge food, to fashion and art scenes. Captivating landmarks like the Opera House, the Astrup Fearnley Museum and Barcode are changing the face of the city, and Oslo maintains its refreshing closeness to nature.
©Göran Assner/imagebank.sweden.se
Gothenburg
Gothenburg, Sweden's second city, has plenty to offer when it comes to sports, culture and entertainment. The restaurant scene is getting better every year. The cold, clean waters around the city provide lobster, langoustine, shrimp and fish of a quality that is hard to match anywhere else. Here, seafood is a lifestyle and the locals like to buy their shrimp straight from the fishing boats.
©Werner Nystrand/Folio/imagebank.sweden.se
Stockholm - the capital of Sweden
Stockholm is urban yet historic and very close to nature; water is an ever-present feature in this city where green areas, medieval buildings, and skyscrapers meet. Diversity, equality, and innovation are celebrated and embraced here. This is a modern hub for tech, fashion, music, film, design, gaming, and all creative industries. This is a city open to everything and to everyone.
©Line Klein
Copenhagen - the capital of Denmark
Copenhagen is world famous for its "cosiness", the beer, the beautiful buildings, the bikes and now also all the gourmet restaurants that have received stars in the Michelin guide. But do not miss popular pearls such as the butter bread at Torvehallerne, the "bajern" at Ølbaren, the design finds at the flea market in Israels plads.
Practical information
Buying and booking tickets
You can buy tickets directly from our website sj.se and from our app, which are both available in English. You can also contact your travel agent or a Scandinavian specialist.

Take the train from Arlanda Airport
If you arrive in Stockholm by plane, you can get straight on the train at Arlanda Airport for onward travel to the rest of the country.
Group travel
For parties of 10 or more people travelling together.
E-mail: gruppresor@sj.se
For smaller groups or individual bookings, please visit sj.se/en
Useful websites
Information, booking and prices for SJ trains: sj.se/en
Tourist information about Sweden: visitsweden.com
Information about the Inland Railway in northern Sweden: inlandsbanan.se
{{ getModalHeaderText() }}
{{ getModalInfoText2() }}