Take the train to Åre
Experience Swedish nature at its best.
© Emrik Jansson
Spectacular views in summer and winter
Åre is a mountain resort that offers outdoor activities, magical scenery and culinary experiences all year-round. A perfect destination for the adventurous as well as to relax and enjoy the beautiful landscapes.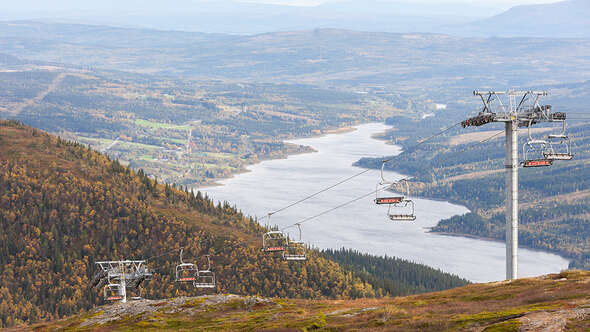 © Niclas Vestefjell/imagebank.sweden.se
How to get there
Three daily departures from Stockholm to Åre, including one night train. Travel time is approximately 7 hours.
Please visit sj.se/en for an exact timetable.
Book a trip
For parties of 10 or more people travelling together.
E-mail: gruppresor@sj.se
Telephone number: +46771–75 75 75 (touchtone 7)
Opening hours: Mon–Fri 8 am–5 pm
For smaller groups or individual bookings, please visit sj.se/en
Year-round activities
Hit the slopes
One of Sweden's largest ski resorts, where the Alpine Ski World Cup was held in 2019, is located in Åre. With slopes that range from beginner to advanced, there is something for everyone to try. End the day with typical Swedish After-Ski.
Hop on the bike
As spring comes and the snow melts, the ski resort transforms. Recognized as one of the best in the world, Åre Bike Park is a great adventure for bikers of any level. Downhill, Cross country and maybe a swim-stop along the way - options are endless!
Water activities on Åresjön
In both summer and wintertime, the Åre lake and surrounding waters offers many activities such as river rafting and kayaking. When visiting during winter, take the opportunity to ice skate on the frozen lake or go ice fishing.
Discover the culture of Åre
Visit the chocolate factory
Since 1991 the Åre Chocolate Factory has been hand crafting pralines, often with local ingredients. Indulge in their signature chocolate praline, or stay for a Swedish fika at their café.
Try the local cuisine
Restaurant options are plentiful in Åre, and menus are often locally inspired with ingredients from small-scale farmers and producers in the area. Don't forget to visit the local brewery and coffee roastery!
Unwind the Swedish way
While Åre is known as a destination for the outdoor enthusiast, it is also a perfect place to relax and unwind. Visit one of the many spa centers, take part of the Scandinavian sauna tradition or simply go for a hike and let nature sooth you.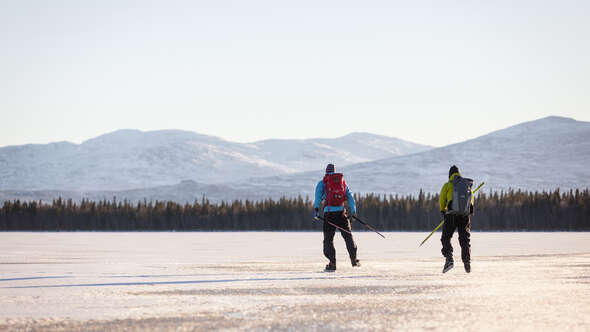 Ice skating on Åre lake during wintertime. © Niclas Vestefjell/imagebank.sweden.se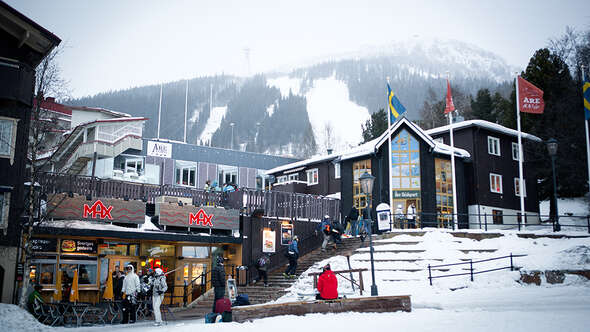 The Åre village. © Tuukka Ervasti/imagebank.sweden.se
Travel smart and comfortable - take the night train to Åre
When travelling with the night train you can maximize your time on the mountain. Fall asleep in Stockholm and wake up in Åre just in time for breakfast.
With our night trains you can choose to travel seated, in a 6-bunk couchette or in a sleeping compartment. Onboard, we offer food and drink sales in our bistro. If you are travelling in 1st class, breakfast is included until 9 AM.
If you are an experienced adventurer with your own equipment - don't worry. As well as two suitcases, you are allowed to bring one special luggage onboard.
{{ getModalHeaderText() }}
{{ getModalInfoText2() }}