About SJ
SJ brings people closer together, every day
SJ is a Swedish railway company that offers sustainable train travel, both as an independent operator and in collaboration with others. SJ is one of Sweden's most sustainable brands and is helping Sweden achieve its climate goals. The Groups 5400 employees in Sweden and Norway enable lots of people to choose train travel, which is the most sustainable mode of transport for longer journeys.
As the market-leading train operating company, SJ connects Sweden, Norway and is the gateway to Scandinavia's capitals. Every day our passengers and co-workers meet on one of SJ's 1,500 departures from over 400 stations.
SJ is a private limited company owned by the Swedish government and tasked with operating profitable public railway transport.

Founded
In 1856
Form of company
Limited company since 2001, wholly owned by the Swedish state
Number of employees
Around 5,400
Number of stations served
Around 400

Our train routes
Our trains serve 160 stations every day, connecting Sweden from north to south. We also serve Oslo and Copenhagen.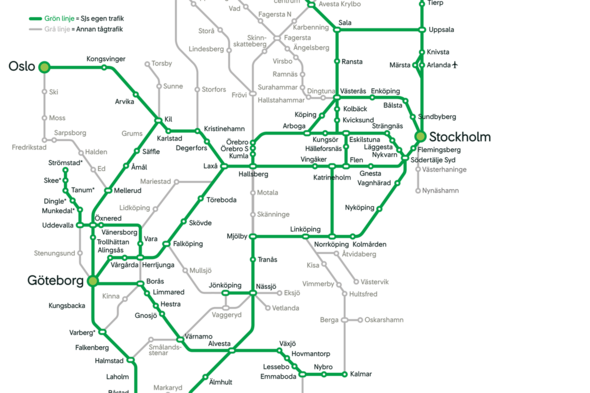 We proudly present the fastest train in our fleet - X 2000
X 2000 is Sweden's most popular train, providing a fast and comfortable way for travellers to get to the central cities in Sweden. In 2021, we launched an upgraded and fully-modernised version of this train.
Contact SJ Head office
Telephone: 010-751 60 00
Mon–Fri: 10:00–15:00, closed for lunch between 12:00 and 13:00.*

Email SJ Head office: diariet@sj.se**
Email SJ employees: firstname.lastname@sj.se
* May differ during public holidays.

** Customer service questions are handled by SJ Customer service
Postal address
SJ AB
105 50 Stockholm
Sweden
Visiting address
Vasagatan 10
Stockholm
Registration number
556196-1599
{{ getModalHeaderText() }}
{{ getModalInfoText2() }}