ABOUT SJ
Welcome to SJ
SJ is a Swedish travel partner that offers sustainable train travel, both independently and in collaboration with others. Every day, 150,000 people choose to travel on one of SJ's 1,220 departures from 291 stations.
SJ brings people closer together, every day
SJ is a Swedish travel partner that provides sustainable train travel, both independently and on behalf of national and regional public transport authorities. The Group has annual sales of approximately SEK 8.6 billion and 4,600 employees. As the market-leading train operating company, SJ connects Sweden and is the gateway to Scandinavia's capitals of Stockholm, Copenhagen and Oslo.
Every day, 150,000 people choose to travel on one of SJ's 1,220 departures from 291 stations.
SJ provides independent train services for longer journeys with high-speed and night trains, and for regional services between large towns in Sweden and Scandinavia's capital cities. Its tendered services are for shorter train journeys between work, studies and home within a county or region.
SJ is helping Sweden achieve its climate goals. We enable lots of people to choose train travel, which is the most sustainable mode of transport for longer journeys. SJ has been awarded Sweden's most sustainable brand, best domestic transport and Europe's most digital travel company.
SJ is a private limited company owned by the Swedish government and tasked with operating profitable public railway transport.

Founded
In 1856
Form of company
Limited company since 2001, wholly owned by the Swedish state
Number of employees
Around 4,600
Number of passengers
Around 54 million in the SJ Group
Number of stations served
Around 291
Turnover
About SEK 8.6 billion

Our train routes
Our trains serve 160 of stations every day, connecting Sweden from north to south. We also serve Oslo, Narvik and Copenhagen.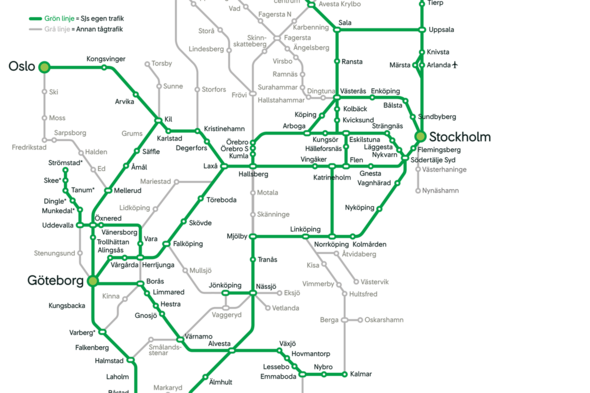 We proudly present the fastest train in our fleet - X 2000
X 2000 is Sweden's most popular train, providing a fast and comfortable way for travellers to get to the central cities in Sweden. In 2021, we are launching an upgraded and fully-modernised version of this train.
165 meters long (6 carriage train)

Max. speed 200 km/h

309 seats (6 carriage train)

1856
Statens Järnvägar, SJ, was founded. The first train departed from Gothenburg Central Station to Jonsered. On arrival, exhilarated passengers reported how they had been "hurled forward" at 30 kilometers per hour.


1894
Sweden's first dining carriage was introduced. Passengers on the Uppsala–Gävle route were the first to try the new service.


1990
Launch of the X 2000 high-speed train.


1997
SJ tickets are bookable online.


2004
SJ introduces dynamic pricing in the same manner as low-cost airlines.


2016
Hip hip hooray! On 1 December, SJ celebrated 160 years. Rail travel is a great modern oldie that never stops renewing itself.


{{ getModalHeaderText() }}
{{ getModalInfoText2() }}